World Sky Race
20 August, 2007, SPAN Magazine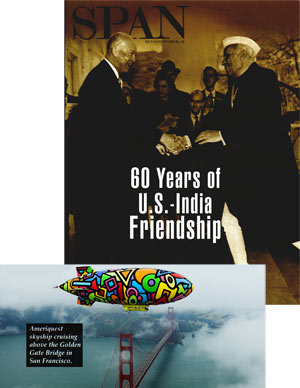 The World Sky Race, a global race for lighter than air skyships and Zeppelins, will trace a route over heritage sites across the world in 2012. Developed by Houston, Texas-based World Air League, the race will start at Lakehurst, New Jersey (the home of the U.S. Navy Lighter-than-Air Center) and, after completing a global tour, end in New York City.

Proposed Indian sites on the route include the Qutab Minar and Humayun's Tomb in New Delhi, Keoladeo National Park in Rahasthan, Fatehpur Sikri and the Taj Mahal in Uttar Pradesh.

The skyships will also land next to the Great Pyramids in Egypt; cruise past the Big Ben in London; land on the Prime Meridian in Greenwich; circle the Petronas Towers in Kuala Lumpur; soar over the Statue of Liberty in New York and the Coliseum in Rome; and line up above the Golden Gate Bridge in San Francisco.

Billed as the largest event in history to be witnessed by the greatest number of live spectators, it is also to be the first full global circumnavigation by a lighter-than-air skyship.
[Back to News]