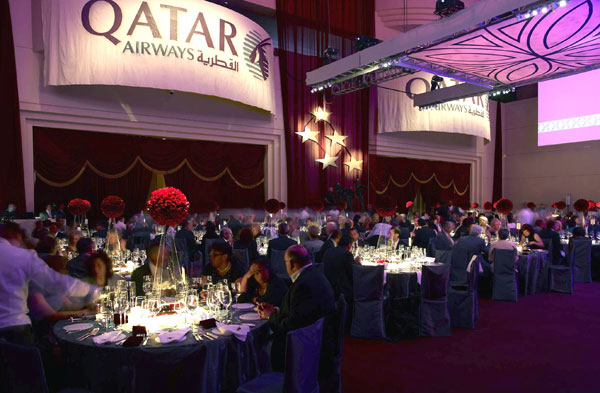 Qatar Airways hosted a glamorous gala dinner for over 400 guests at Houston's Wortham Centre celebrating the launch of the
Doha-based carrier's new daily service between Doha and Houston, one of the world's longest non-stop flights.
Qatar Airways launches non-stop route to connect Doha and Houston

March 31, 2009
Qatar Airways Hosts Glittering Houston Gala Dinner to launch
non-stop route between Doha and Houston
Country Singer LeAnn Rimes Entertains Guests From
Houston's Business, Social And Political Elite



Governor Rick Perry of Texas officially
welcomed Qatar Airways at the gala.

Qatar Airways celebrated this week's launch of its new Houston - Doha route by hosting a glittering gala dinner attended by over 400 guests drawn from across the entertainment, business, political, media and the social spectrum. The Wortham Centre in downtown Houston was the venue for Tuesday night's grand celebration of Qatar Airways' first foray into the U.S. southern states.
The Qatar-themed event was a tribute to new direct air links between the global energy centres of Qatar and Houston. Qatar Airways launched daily non-stop flights between Doha and Houston on Monday - the airline's third U.S. route - complementing existing daily services to both New York and Washington DC.
A VIP delegation from Qatar, led by Qatar Airways Chief Executive Officer Akbar Al Baker and Executive Vice-President Commercial Ali Al Rais have been in Houston for the airline's launch celebrations attended by social, business and government officials, with Texas Governor Rick Perry among the dignitaries. Representing the World Air League in welcoming Qatar Airways to Texas, the Honorable Chase Untermeyer, previous US Ambassador to Qatar and Advisory Director to the World Air League, Harry Gee, Jr, Chairman of the World Sky Race Houston Local Organizing Committee and Don Hartsell, Commissioner of the World Air League extended their congratulations and handshakes in recognizing the meaning and importance this new route will have in connecting the world.
Country singer LeAnn Rimes, who wowed the crowd with a dazzling set of show-stopping songs, was joined by a number of entertainers, including the Arabic Byblos Band, Arabic henna artists, a group of swordsmen and belly dancers from the Gulf.
Miss USA 2008, Crystle Stewart, served as the Master of Ceremony during the evening, where guests were treated to a sumptuous dining and hospitality while enjoying dynamic performances of song and dance.
Qatar Airways' Executive Vice-President Commercial Ali Al Rais extended a warm welcome to guests, sharing his thoughts on the airline's first new route launch of 2009.
"With great delight we have at last launched this new daily flight which will help forge and strengthen economic ties between Qatar and Houston, as well as the entire Texas region," said Al Rais, addressing the packed gathering.
"The relationship between Qatar and the United States goes well beyond trade and investment. Tourists, business travellers, and students are travelling in ever greater numbers, building partnerships, friendships and prosperity."
Governor Rick Perry of Texas applauded Qatar Airways for its vital role in facilitating air travel between two key markets for both business and leisure.
"It is my honour and privilege to officially welcome Qatar Airways to Texas. With your new venture, Qatar Airways is building yet another bridge between two of our world's energy capitals; a bridge to greater prosperity and deeper understanding between two dynamic cultures."
Qatar is home to the world's third largest gas reserves and is the world's leading exporter of liquefied natural gas. After Texas in known and producing reserves, Qatar is the source of Helium, the uplifting element providing buoyancy for lighter-than-air craft. As the demand for LTA aviation increases, Qatar will be a natural ally for members of the World Air League.


World Air League Advisory Director Chase Untermeyer, Governor Perry, First Lady Perry, Qatar Airways Executive Vice-President Commercial Ali Al Rais and Qatar Airways Senior Marketing Manager Colin Neubronner come together for opening a new sky bridge between Texas and Qatar.


World Air League Commissioner Don Hartsell and Qatar Airways Chief Executive Officer Akbar Al Baker exchange best wishes and greetings.

Governor Perry is joined, from left, by Qatar Airways Executive Vice-President Commercial Ali Al Rais, Grammy award winner LeAnn Rimes and First Lady of Texas Anita Perry, flanked by the airline's cabin crew.

World Air League Commissioner Don Hartsell and Qatar Airways Senior Media Relations Officer Sigrid Rath and State of Qatar Vice Consul General Abdulla Jassim Al-Maadadi enjoy the evening's celebration highlighting the importance of friendship and cultural connections shared.
[Back to News]