United Arab Emirates Opens Doors for the World Sky Race

April 30-May 3, 2012



Sheikh Zayed Grand Mosque in Abu Dhabi, UAE


Dr. Monir Fakhri Abdel Nour, Egypt Tourism Minister and
Dr. Taleb Rifai, Secretary General UNWTO
ABU DHABI AND DUBAI, THE UNITED ARAB EMIRATES – While attending the Arabian Travel Market, the World Air League was a guest for an aerial site review of Abu Dhabi's skyline in 1942 Stearman Trainer, a vintage bi-wing open cockpit airplane. The tour provided a downtown flyover of the city's icons, including the Sheikh Zayed Grand Mosque from the altitude that the airships would travel.
Commissioner Don Hartsell was a guest at the Masdar City currently under construction. Completed, Masdar will rely entirely on solar energy and other renewable energy sources, with a sustainable, zero-carbon, zero-waste ecology.
During the Arabian Travel Market, the UNWTO and WAL conducted joint meeting with the Ministers of Tourism for India, Jordan and Indonesia.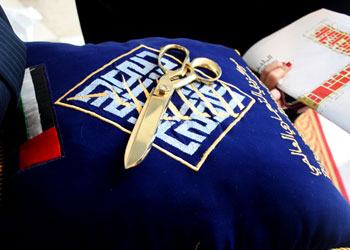 Ceremonial Gold Scissors to cut the Opening Ribbon for the ATM
[Back to News]