Elon Musk and Jeff Bezos can have their space race. Houston-based entrepreneur Don Hartsell has a different vision for slipping the surly bonds of earth. His involves blimps.

Mr. Hartsell, the founder of the World Air League, has fashioned himself as a modern-day Phileas Fogg with his plans for a world-wide race in the clouds starting in September 2024. Just don't call them blimps. "Airship" is the preferred term among purists for an aircraft that is kept afloat by a body of gas that is lighter than air.



Lofty dream

If all goes according to Mr. Hartsell's plan, the World Sky Race will be "the largest man-made event seen by live spectators in the entire history of the human race," he said, calling it "a reason for the world to come outside and look up."

His hot-air vision is two decades in the making. His original plan to stage a 2011-2012 race stalled due to a lack of support, financial and otherwise. The airship community has a giant public-relations hurdle: the 1937 Hindenburg disaster, in which 36 people died in Lakehurst, N.J. (Airship advocates are quick to point out that 62 people survived.)

"In films you'll often see an airship as the base for a villain," said Alastair Lawson, chairman of the Airship Heritage Trust, an organization of airship enthusiasts and experts. "How come the hero never gets the airship as his transport of choice?"

Mr. Hartsell, a 69-year-old father of two, knows there's a lot to overcome. "One daughter said to me, 'Dad, that's crazy,' " he said. "And the other daughter said, 'Dad, that's crazy.' "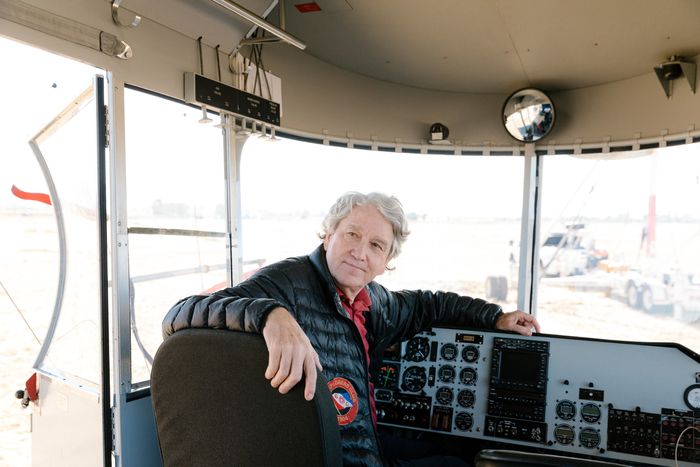 Mr. Hartsell said he got the idea for the race after seeing a blimp during the 1976 U.S. bicentennial celebrations.
Among the supporters are Erik Lindbergh, a pilot on the race's advisory council and grandson of famed aviator Charles Lindbergh. "There is romance, there is potential," he said.
Race advocates point to projects that could help change the public's perception of blimps. A handful of companies are pitching a new generation of airships as a more environmentally friendly way to fly, with lower greenhouse gas emissions than airplanes. U.K.-based Hybrid Air Vehicles just announced plans to create 10 new 100-passenger airships. Mr. Hartsell said airships could be part of the solution to climate change, and the World Sky Race would showcase their possible uses in areas like cargo transportation, tourism and scientific discovery.
In some ways, proponents say, they are an antidote to modern times. In a world of fast technology, fast cars and fast food, airships coast through life slowly. If jets are cheetahs, airships are manatees—puffy, portly and in no rush. Most measure 170 to 220 feet, roughly two-thirds the length of a football field. They cruise at highway speeds, between about 50 to 70 miles an hour.
The airships that exist now are largely for branding or advertising purposes. Most are privately owned, and Mr. Hartsell said he's in contract to purchase six airships himself. He's trying to figure out how to pay for them; it turns out it isn't as easy as getting an auto loan.
Mr. Hartsell, who has spent decades as an accountant, lawyer and entrepreneur, said he first got the idea for an airship race when he saw the Goodyear blimp floating by the Statue of Liberty during the 1976 U.S. bicentennial celebrations.
For his whole life, he said, he has "one way or another been involved with the properties of air and utilizing air as a tool." He still has an old fifth-grade report he did on the properties of air, and some of his past ventures had to do with humidification systems and applying vacuuming techniques to book preservation.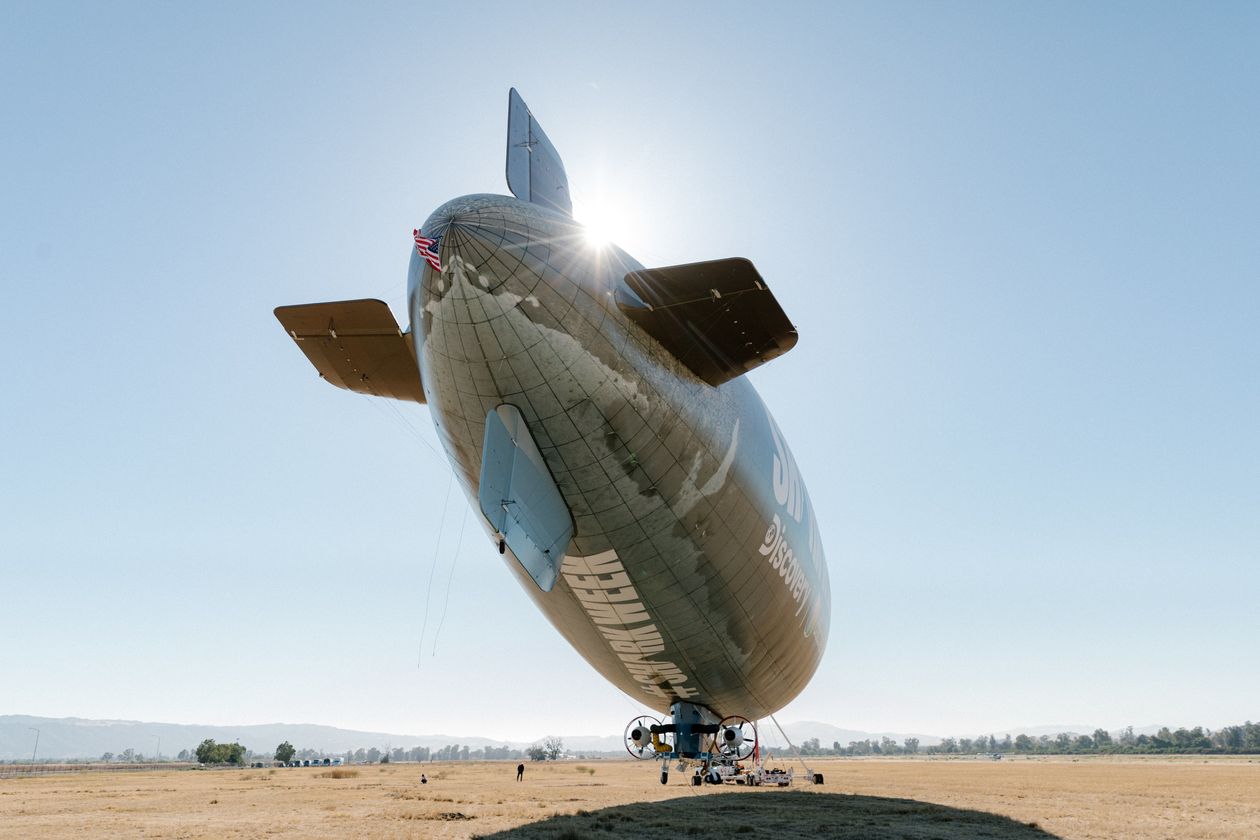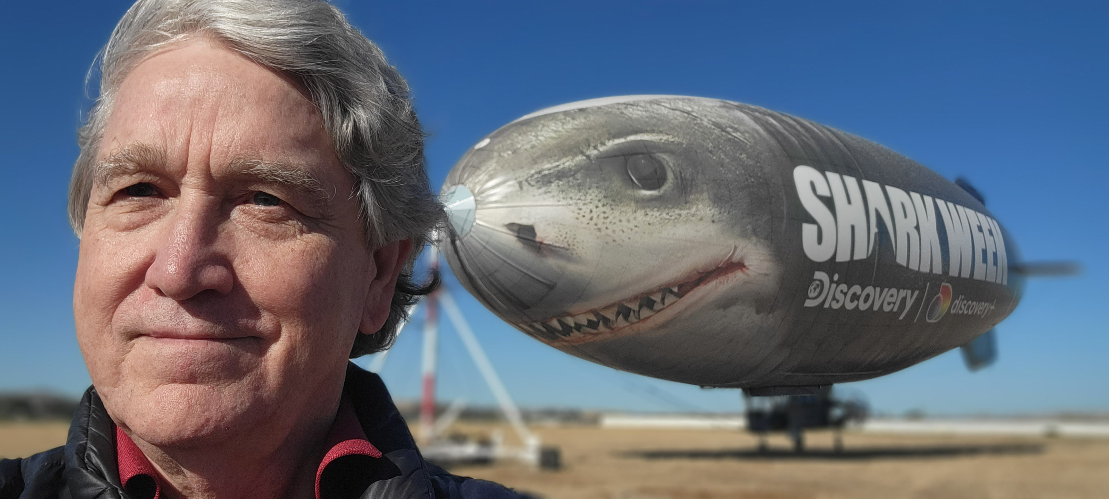 A 'Shark Week' branded blimp at Livermore Municipal Airport in Livermore, Calif., on July 2.
Mr. Hartsell has enlisted a range of allies in his cause. Prince Albert II of Monaco has instructed his government to assist. Bruce Dickinson, the British lead singer of Iron Maiden, who has held a commercial pilot's license, joined the advisory council this year. Ross Perot Jr., a pilot and son of the former presidential candidate, is donating the use of his Alliance Airport in Fort Worth, Texas, to be an international training base.
"It's a romantic vision," said Mr. Perot, who, with Jay Coburn, became the first to circumnavigate a helicopter around the world, at age 23. Now 63, he is assisting Mr. Hartsell in the task of coordinating 16 race legs with 17 summit cities. Between those cities will be 65 or more additional airfields for refueling and other pit stop services.
"The sound bite is 'around the world in 180 days,' " said Mr. Hartsell, but with breaks in between legs, the plan is actually 217 days—perhaps longer with weather delays.
Like a helicopter, when piloting an airship "you have to live in the weather," Mr. Perot said, making it more akin to sailing in the air than anything from "Top Gun."
Brian Hall, the co-founder of Mountain View, Calif.-based sightseeing company Airship Ventures, noted the race's hurdles include the availability of ships and crew, legal and regulatory and insurance issues, as well as the budget. Routine operations for a blimp on a tour in the U.S. might cost $400,000 to $600,000 a month, he said. Running the race would also require large ground crews. He expected that the duration of a world-wide event "would be measured in years, not weeks," he said.
Floating over the San Francisco Bay on July 2.
Mr. Hartsell is undeterred. The race's coffers are up to $10 million, a mix of his own funding and sponsor dollars, from $4 million in 2010. He's raising an additional $5 million and looking for more sponsors. Two teams have committed, one from France called the Flying Whales and another from South America. Mr. Hartsell is looking for three more to commit. He is also coordinating Kickstarter campaigns among summit cities for the prize purses.
Summit cities are responsible for covering the costs of hosting, which he estimates to be about $35 to $55 million. One plus: no costly infrastructure is required, just a big open space.
Sian Proctor, who became the first African-American woman to pilot a spacecraft last year, on a SpaceX flight, hopes to be on one of the teams, potentially as a navigator. The loftiness of the vision, she said, is part of what drew her to it.
"It intrigued me because it brings me back to those early days of aviation," Ms. Proctor said. "Whenever I see the Goodyear Blimp, I get kind of excited."
The Zen of the slowness of an airship race is precisely what Kathy Sullivan, an astronaut and oceanographer who serves on the President's Council of Advisors on Science and Technology, loves about the concept. As exhilarating as a rocket launch is, she said, it's over in a few seconds.
"My first impression was: Wait, what? 'Blimps' and 'race' in the same sentence?" said Ms. Sullivan, who is on the World Sky Race's advisory council. "I think it's good for all of us at times to be taken out of ourselves a bit by nature and reminded of the scale of things and how they work."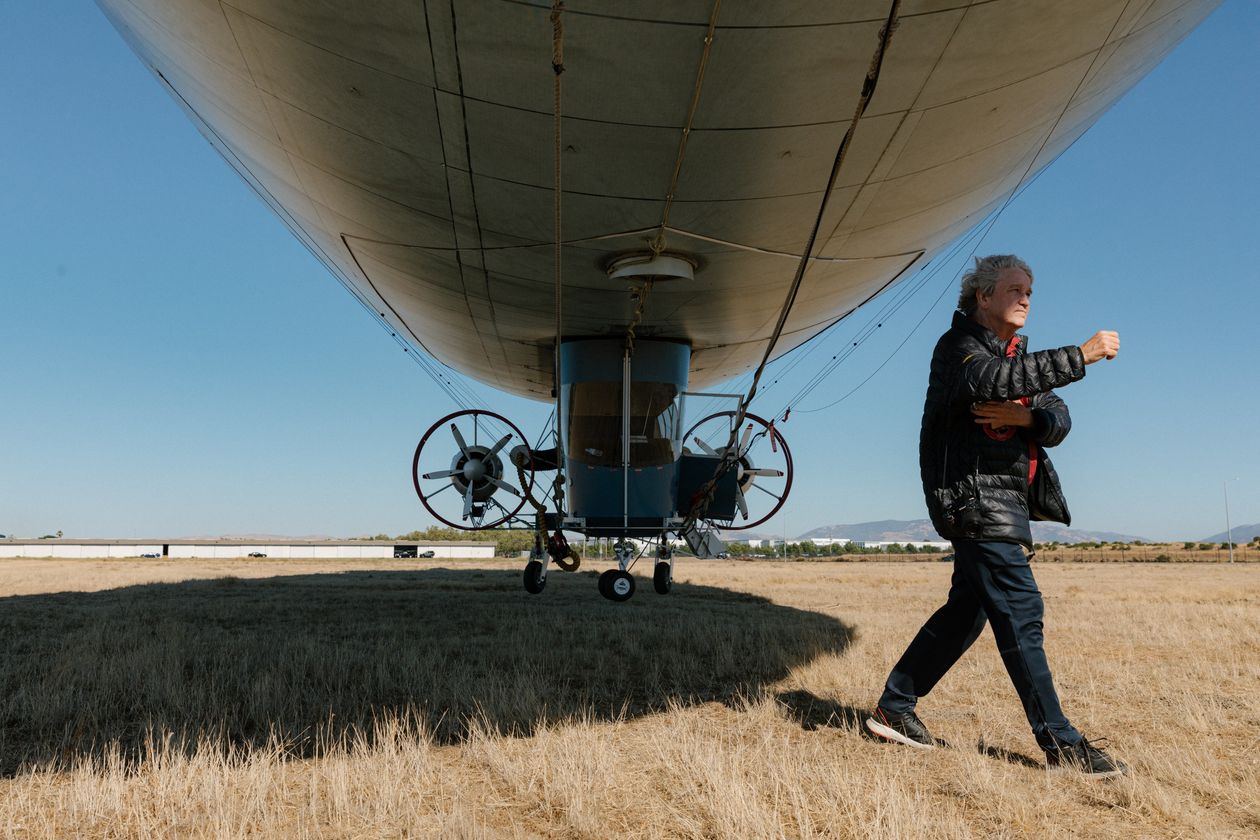 Mr. Hartsell with blimp at Livermore Municipal Airport.