February 23, 2015


FUJAIRAH, UNITED ARAB EMIRATES - HRH Sheikh Mohammed bin Hamad bin Mohammed Al Sharqi Crown Prince of Fujairah presided over the Government of Fajairah and the World Air League completing an airport agreement to host the World Sky Race. Participating in the signing ceremony, Mr. Salem Al Zahmi represented the Government of Fujairah and Commissioner Don Hartsell and Director Larry Waks represented the World Air League.

"Fujairah today has placed itself on the map and route of the World Sky Race by agreeing to be an important safety and logistics point for the airship teams as they race across the Middle East. Planning for logistics and weather are amongst the greatest challenges of creating this Race around the world. We are most pleased to have the patronage of HRH Sheikh Mohammed bin Hamad Al Sharqi. HRH's hospitality and support will show that Fujairah and the UAE is a multifaceted destination on the crossroads of the world with a rich and diverse culture to be explored." said Commissioner Hartsell.

The Fujairah airport agreement was the culmination of several site visits to find one of the strategic locations in the Gulf Coast Countries for the airships teams to fill their tanks and replenish their supplies in their historic competition around the world. For safety planning, the majority of the airports servicing the Race will be every 500 - 900 km. Globally, 55-60 airports will be on the Race route and used for calculating official times for each of the teams.

The Fujairah Airport is planning expansion for commercial air traffic and will be ready for the arrival of the Race teams in December 2017. By being on the Race route, Fujairah will be seen as a growing center of global marine commerce for petroleum and food shipping and storage. Fujairah's port and harbor facilities are east of the Strait of Hormuz with direct access to the Indian Ocean. The down town of Fujairah is in the process of transformational growth. For tourism there is a focus on developing quality experiences for the overseas travelers.

To provide hospitality for the arriving Race teams, Fujairah Tourism & Antiquities Authority will plan welcoming festivities and entertainment. "We have great pride in that Fujairah was selected to be included in this historic race of airships around the world. For the children that will have the opportunity to be involved, we hope their personal experiences gained from this Race will inspire their imaginations to look up as they grow.", said Mr. Ashraf Kamal, General Manager for Fujairah Aviation Services.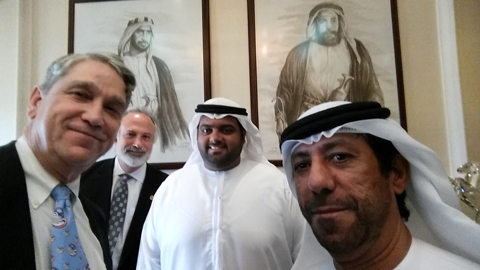 WAL Commissioner Don Hartsell, WAL Director Larry Waks, 
HRH Sheikh Mohammed bin Hamad bin Mohammed Al Sharqi Crown Prince of Fujairah, 
H.E. Mr. Salem Al Zahmi