Global Partnerships Development
September 22, 2007


Floyd Bennett Field, New York City – By the generous donation and support of Airship Management Services, the World Air League and supporters previewed skyship operations at the historic Floyd Bennett Field.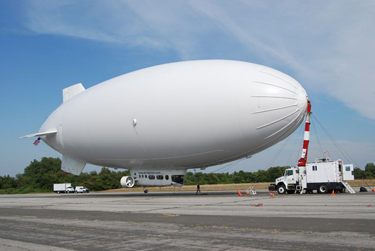 "Famed aviator Wiley Post twice used the field for record-breaking round-the-world flights, and developed or adapted technology (such as the Sperry autopilot) there to aid him. Famous aviatrixes of the era, for example Jackie Cochran, Laura Ingalls, and even Amelia Earhart and more broke records at this airfield. Howard Hughes also used Floyd Bennett Field as the start and finish of his record-setting circumnavigation of the globe in ninety-one hours in July 1938."
Joanna Sullivan, Patrizia and Francesco Bandarin, Don Hartsell, Terry and Mary Garcia inspect a potential skyship entrant in the World Sky Race.
Geoff Connor, World Air League Honorary Director
Francesco Bandarin, UNESCO World Heritage Centre Director
Terry Garcia, National Geographic Mission Programs Executive Vice President
[Back to News]