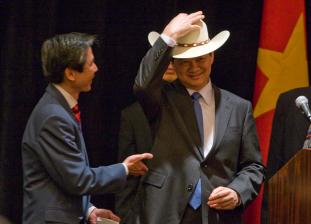 Joe Knierien, left, of the International Trade Expo, gives Vietnamese
Prime Minister Nguyen Tan Dung a Stetson cowboy hat during the Discover Vietnam
U.S. & Vietnam Business Forum luncheon on Thursday.
Nick de la Torre: chronicle


Vietnam wants a Houston consulate

Prime minister, local leaders discuss ways to expand business
June 26, 2008
Vietnam's ambassador to the U.S. said his nation hopes to open a consul general's office in Houston soon.

"We have agreed in principle," said Ambassador Le Cong Phung during a break in Thursday's meeting between Vietnam's prime minister and Texas business leaders at the Westin Oaks hotel. "We have got one office in the East, the embassy, and one in the West in San Francisco. The United States is a huge country. We cannot cover it all."

Vietnamese Prime Minister Nguyen Tan Dung and his delegation of more than 100 officials met with Texas cotton producers, energy company officials and other business leaders to discuss ways to expand trade between the two nations.

"With more trade and more tourism, it's good to have a local consulate to help expedite our visas for our people," said Roger Haldenby, vice president of operations for Lubbock-based Plains Cotton Growers.

"There's nothing in the world that replaces a handshake and eye contact," said Don Hartsell, managing director of Houston's World Air League. "It serves as an introductory means of opening up the entire country."

He is organizing the World Sky Race, a 150-day race of skyships — similar to blimps — whose route includes a stop in Vietnam. Hartsell met with Vietnamese officials to negotiate a celebration that would take place in Vietnam during a 2012 race around the globe.


By JENALIA MORENO Copyright 2008 Houston Chronicle
[view whole article on chron.com]
[Back to News]