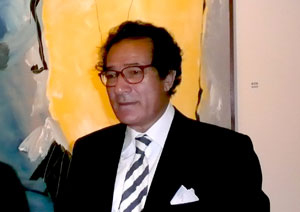 Minister Farouk Hosny, Egypt Ministry of Culture

Houston, Texas - Members of Egypt Local Organizing Committee traveled to Houston to attend Farouk Hosny's Museum of Fine Arts, Houston exhibition debut. Farouk Hosny is one of Egypt's most prominent contemporary artists and also serves as the country's Minister of Culture.

"Farouk Hosny has long been a cultural force, both in his career as a painter and as Egypt's Minister of Culture," said Frances Marzio, the Museum Of Fine Arts, Houston's coordinating curator. "The museum is pleased to present Hosny's vivid and lively abstract paintings, giving many audiences their first taste of contemporary Egyptian art."