NEWS / EVENTS
Something's In the Air
UNESCO World Heritage Centre and World Air League to Partner for an Historic Aviation Race
March 6, 2008
The two organizations are developing a global partnership which will promote the values of World Heritage by an extraordinary program of racing lighter-than-airships in a aviation record setting flight around the world.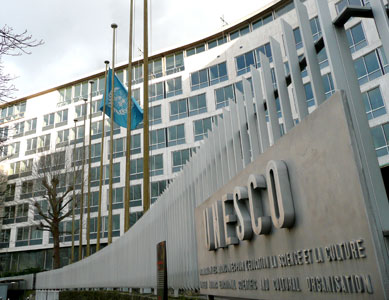 This union will bring to the world an historic, epic venture featuring zeppelins, dirigibles, blimps and all of which are considered lighter than air, an efficient and green form of aviation travel. Starting a series of sixteen races from the Greenwich Prime Meridian, the World Sky Race will circumnavigate the globe. By competing in and completing all sixteen races, the skyship and team with fastest cumulative time will be crowned the "World Sky Champion". The race route covers major metropolitan areas on five continents and will fly over more than130 World Heritage sites. Program planning for the launch of the world sky race is for 2012.

The Monumental Icons of the world, ancient & modern, will host the participants of the World Sky Race. Included on the race course are: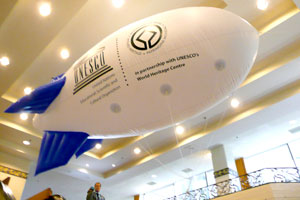 Starting on the Greenwich Prime Meridian in front of the Atomic Clock
Big Ben, Houses of Parliament and London Bridge
Roman Coliseum
Great Pyramids of Giza
Taj Mahal
Petronas Towers
Mount Fujiyama
Kilauea Volcano and Diamond Head
Golden Gate Bridge
Teotihuacán Pyramids of the Sun
NASA Johnson Space Center
Statute of Liberty
This will be the Largest cultural, sports & entertainment event ever seen by the greatest number of live spectators in all of history. "The race will serve to provide sporting excitement and also a means of highlighting the diversity of peoples and places around the world." - Francesco Bandarin, Director of UNESCO's World Heritage Centre. The two organizations have agreed to jointly develop materials and curriculum for global teaching aids on history, geography, and culture. It is expected worldwide that classrooms will use the World Sky Race as a teaching tool.
[Back to News]