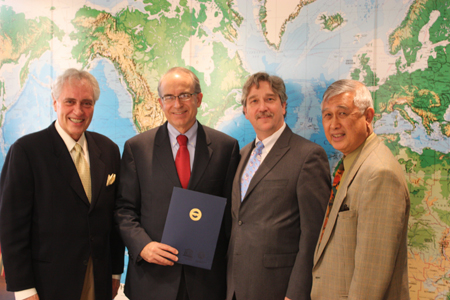 Greater Houston Partnership
Don Henderson, Chairmen Emeriti Greater Houston Convention and Visitors Bureau
Jeff Moseley, President of the Greater Houston Partnership
Don R. Hartsell, World Air League Commissioner and Managing Director
Harry Gee, Jr., Acting Chairman World Sky Race Houston Local Organizing Committee




Harry Gee, Jr. appointed Acting Chairman of the Houston Local Organizing Committee

March 5, 2009
HOUSTON, TEXAS - The World Air League announced today that Harry Gee, Jr. has accepted the position of Acting Chairman for the Houston Local Organizing Committee for the World Sky Race 2012. As Acting Chairman Harry Gee, Jr. will initiate and guide the organization and development of events central to Houston as one of the 16 major stops on the World Sky Race and it's circumnavigation of the globe.

Harry Gee, Jr., a board certified Immigration and Nationality attorney has been practicing law in the state of Texas since 1963. He is very active in the community and great supporter of the City of Houston. As a civic leader, he is a member of the board of directors for the Greater Houston Partnership, president of the Sisters Cities of Houston, member of the development board for the University of Texas Science Center and a founding member of the Steering Committee of Imagine Houston among many others.

Don Hartsell, founder and Commissioner of the World Air League stated "Harry has been a significant supporter of the World Air League and World Sky Race. We are pleased and fortunate to have him assisting us in making Houston one of the feature stops on our route. "The World Air League is proud that Houston is the home of its headquarters and that it is the community and civic efforts of this City and leaders like Harry that have made the dream of the World Sky Race become a global reality.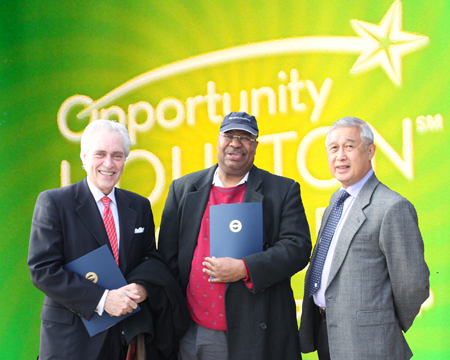 Opportunity Houston
Don Henderson
Jodie Giles - Prevbious Chairman of the Greater Houston Partnership's Board of Directors
Harry Gee, Jr.




[Back to News]