Houston – World Sky Race Day
October 2, 2007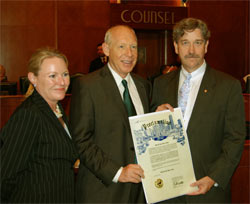 "Mayor White, Council Members, Ladies and Gentlemen, and Anne Clutterbuck, my friend for whom time has no bounds, I want to thank you for the Honor and recognition that today we take note it is in Houston – World Sky Race Day! Today, we are proud to announce that Houston has taken a leading role for hosting and participating as a milestone city in a race of zeppelins and skyships that will connect the entire world. Today, we start the countdown of history as we ready skyteams and their flying machines to compete and challenge the world's imagination in the pursuit of an epic dream to be the first World Sky Champion. Each of us understands the pleasure of friendships, old and new. With a handshake and smile, we connect and around the world this is a universal rite for beginning, connecting and renewing friendships. The World Sky Race is about connecting the globe with the simple pleasure of watching and cheering on these, to be acclaimed, sky heroes as they seek to be the first to successfully circumnavigate the globe in a lighter-than-air skyship. With the support and friendship of the UNESCO World Heritage Centre, the World Sky Race will tell the tale of history and that of diverse cultures. Along the race route, the heritage of humanity will be represented by the iconic monuments and natural wonders of the world.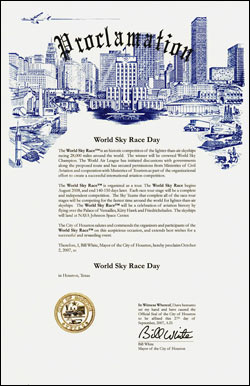 Being in Houston, this room is filled with fellow Texans, so I can freely describe the World Sky Race in the superlative terms that we of Texas all understand. This is BIG! The World Sky Race will be the largest man made event, seen by the largest number of live, and I mean live, spectators in the entire history of human race. Now this is BIG! Houston, thank you. This proclamation largely states that this auspicious day in Houston is World Sky Race Day. Now lets get out the support of our friends and our good neighbors and do something BIG. We want the world to know how Houston thinks, how Houston acts. We are BIG! Thank you, Anne. Thank you, Mayor. Above and Beyond!"
Commissioner Don Hartsell, World Air League before the Houston City Council
[Back to News]