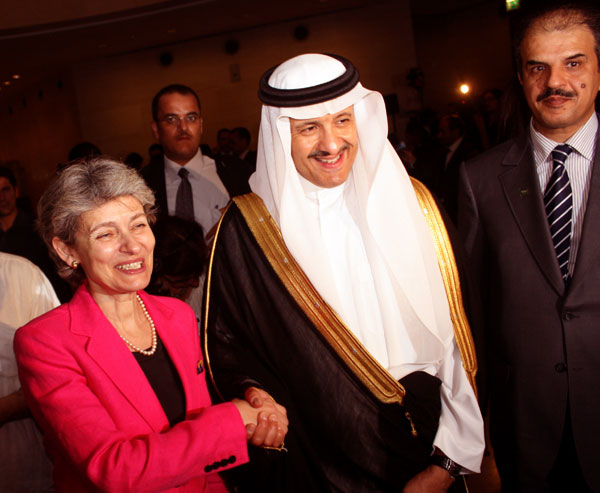 UNESCO Director General Irina Bokova and His Royal Highness Prince Sultan bin Salman bin Abdul Aziz
Prince Sultan Bin Salman Bin Abdul Aziz opens Exhibition at the Louvre Museum

July 13, 2010
PARIS, FRANCE - At the Louvre Museum, the "Saudi Archeological Masterpieces through the ages" exhibition was opened in the presence of His Royal Highness Prince Sultan bin Salman bin Abdul Aziz, President of the Saudi Commission for Tourism and Antiquities (SCTA) and Mr. Frédéric Mitterrand, French Minister of Culture, and Mr. Henri Loyrette, Director General of the Louvre Museum.
The exhibition is hosted by the Louvre Museum, Paris, France, held in collaboration with SCTA.
HRH Prince Saud Al Faisal, along with His Excellency Bernard Kouchner, French Minister of Foreign Affairs, toured through the exhibition and listened to a detailed explanation from Dr. Ali Al Ghabban, Vice President for Antiquities and Museums at SCTA, on the historic items and relics in the exhibition and its subsequent tour outside the Kingdom.
The exhibition reflects the important role played now by the Kingdom of Saudi Arabia. Prince Sultan Bin Salman said the exhibition is a gift from the Kingdom to the world's people, particularly those who are concerned with culture, because the relics narrate the Kingdom's history and its impact across the world.
Attending the opening was World Air League Commissioner Don Hartsell to discuss with Prince Sultan Bin Salman the recent location of the "lost" portrait his mission as an astronaut aboard NASA Space Shuttle STS-51G when he became the first Arab and the first member of royalty in space.

Commemorative portrait of
Astronaut Prince Sultan Bin Salman

His Royal Highness Prince Sultan bin Salman bin Abdul Aziz
and Don Hartsell, Commissioner WAL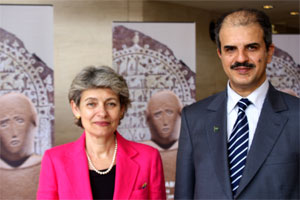 UNESCO Director General Irina Bokova
and Deputy Minister for Foreign Information
Kingdom of Saudi Arabia Dr. Abdulaziz S. Bin Salamah
[Back to News]