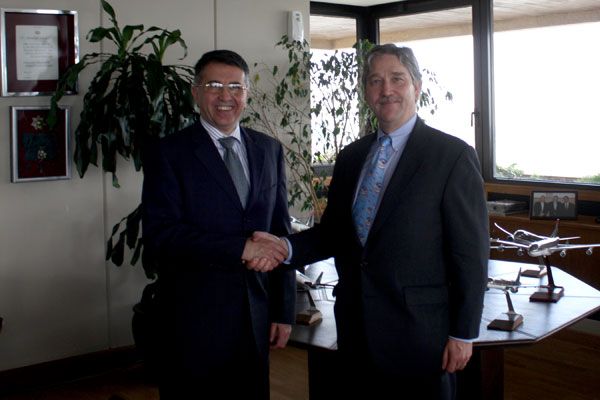 Mr. Hussein H. Dabbas, President and CEO Royal Jordanian and Commissioner Don Hartsell
Jordan Local Organizing Committee hosts WAL Delegation

January 11-15, 2010
| | |
| --- | --- |
| | Petra - UNESCO World Heritage Site |
HQ JORDAN ROYAL AIR FORCE AMMAN, JORDAN - The Jordan Local Organizing Committee hosted a site visit by members of the World Air League Host Cities Committee. HRH Prince Faisal bin Al Hussein received Mr. Jack Kelly and Mr. Don Hartsell to discuss JLOC developmental activities. As a showcase preview of Jordan's panoramic vistas and cultural sites, HRH arranged for an aerial helicopter tour by the Jordan Royal Air Force. WAL was treated to a reconnaissance over the Dead Sea, Petra, Aqaba and Wadi Rum Desert.
Mr. Hussein H. Dabbas, President & CEO of Royal Jordanian met with the WAL delegation to discuss the airline's support for the JLOC. Following the meeting, Royal Jordanian pledged their sponsorship for the World Air League and that JR will provide hub air services for the Middle East. Additional meetings were held with the Jordan Tourism Board and private sector parties interested in being involved in creating the JLOC administration.
[Back to News]
Click any of the images below to zoom in. Click again to zoom back out. Click on the arrow to view the picture description.
TiltViewer requires JavaScript and the latest Flash player.
Get Flash here.